On today's market, there are so many great instrument bands to choose from. However, not all of them excellent in all aspects. In this review, we will take a look at the leading brand in this competitive industry: Yamaha.
Yamaha is a brand praised all over the world, and it is no secret that Yamaha has been taking pride in their good quality products. Yamaha digital pianos are great quality and many of the sounds have been sampled from the Yamaha grand acoustic pianos.
Since Yamaha is such a huge brand and there are many options to choose from, it can be hard to look through all of them and choose the best, especially if you are a newbie.
In this Yamaha digital pianos review, we will take a look at the very best Yamaha has to offer including the best Yamaha keyboard instruments and the best electric piano instruments as well.
Let's take a look at some of the best Yamaha digital piano instruments.
Our Top 3 Best Yamaha Piano Picks
Why Is It Good To Choose A Yamaha Digital Piano
Yamaha really earned its way up on today's market, and no wonder their instruments are very popular. In the following review, we will gather the best features and highlight why is good to choose Yamaha as your new instrument.
Affordable
If you want to compare Yamaha digital pianos with other brands you will see that Yamaha has been producing some very affordable models which are high quality.
Of course, the great quality and durability take it all for Yamaha, however, does not matter what is your budget, you will find a great Yamaha digital piano for yourself.
Quality Of Construction
You can read in all Yamaha piano reviews that the brand does construct amazing and durable digital pianos. The pianos feel high quality, and well engineered.
All of the Yamaha instruments are put together nicely, and they also have manufactured some very good looking digital pianos as well.
Realism
Some of the most important factors in digital pianos are key realism. There are so many digital pianos which have very bad keyboards, but it is not the case with Yamaha. Many of their digital pianos have graded and weighted keys, which means they are so realistic you could believe you are playing on an acoustic piano.
This means the digital pianos and the Yamaha electric piano models can produce rich and full sounds.
Digital Features And Specifications
There is much more to a digital piano than just amazing sound quality and great key realism. Of course, these are very important, but many piano players prefer to have extra features for music production and just own fun. Many digital Yamaha piano instruments offer features like recording, mixing, layering, and much more.
With these digital pianos, you can mix up your own music! The best Yamaha piano keyboard can do so much for you. Each keyboard has unique settings and features, so it is hard to compare them with each other.
If you are a beginner player you might find the Education Suite useful, where you can practice and begin learning faster and better.
The Best Yamaha Digital Piano Models
We have gathered the top ten Yamaha models so you can learn about the great features and qualities. Hopefully, this guide will be a great help to you. Let's continue with our Yamaha digital piano review.
One of the best features of all Yamaha digital pianos and keyboards is the wonderful sound quality. The Yamaha P255 provides great and realistic sounds, and amazing engineering is obvious. The sound can be compared to Yamaha's most popular grand piano, the CF.
This Yamaha electric piano has over 20 tones, which includes 4 organs, 4 grand piano, and 4 electric sounds as well. Not bad especially for this price!
The Yamaha P255 is portable, easy to use, sleek design and amazing sound qualities.
The Graded Hammer Keys provide an authentic acoustic piano feel. The layout and the look of the piano are laid back and you will not get distracted with anything else.
Since it does not have an LCD screen it can be hard to navigate through the dozens of functions.
The beautiful matte finish is a bit ruined by the plastic sides, however, this does not interfere with the piano's working at all.
If you are looking for a keyboard which has an absolutely amazing key action, the P45 might be the perfect fit for you. The Graded Hammer Action keys are truly replicating an acoustic feel. The 88 key keyboard has a nice touch sensitive which you can also adjust to your own preferences.
The sound quality is also great, as the audio was sampled from Yamaha's finest grand pianos. The P45 can be easily transported as it weighs less than 40 pounds. Not to mention all the amazing features.
However, the best part of the Yamaha P45 is the affordability. If you compare the Yamaha electric piano prices with other brands, you will be surprised.
Yamaha has some amazing instruments in the P series, such as the Yamaha P115. This keyboard also offers the great Graded Hammer Standard keys. This means that the keyboard mimics an acoustic piano, and it is also touch sensitive. The sound was sampled from Yamaha's favourite concert grand piano, the CFIIIS. This way every note you play will be rich, full, and beautiful.
This is a bit more advanced instrument, which means the price is also higher. However, everything in this keyboard is advanced and improved, such as the sound engine, the key realism, and all features. You can also connect to your phone, or play around with the dozens of amazing features.
The keyboard itself only weighs about 37 pounds which makes it super lightweight and easy to transport.
If you are looking for wonderful furniture like digital piano make sure to consider the Yamaha Arius YDP 181. This is probably the bets furniture style digital piano Yamaha has made so far.
As you would expect, the YDP 181 is equipped with Graded Hammer keys, which are extremely realistic. You can also set everything according to your preferences. The key responsiveness is phenomenal, and the sound system is pretty amazing as well. The digital piano is capable of 128 polyphony notes. The Advanced Wave Memory technology makes sure that all your notes are perfect.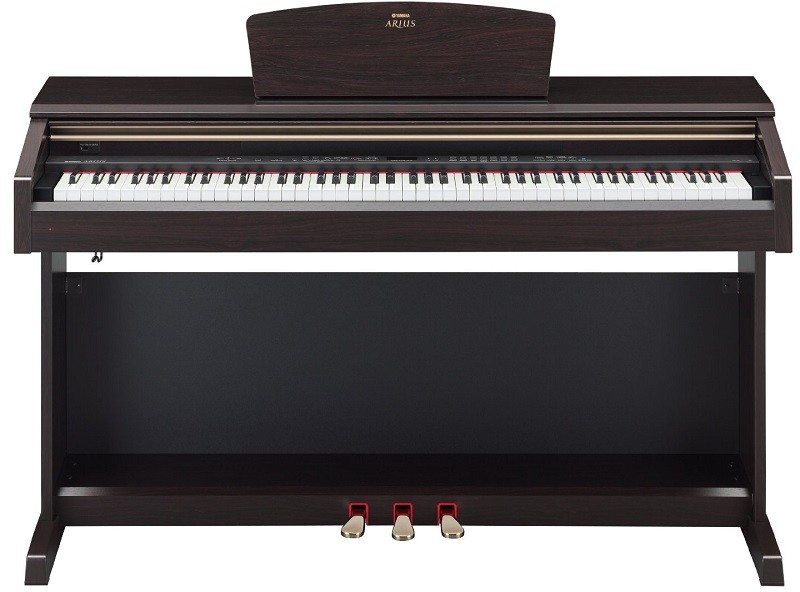 Just like the previous Yamaha electric pianos this digital piano also comes equipped with wonderful features. The YDP 181 has touch sensitivity, built-in song recorder, LED display, USB connectivity and much more.
The Yamaha YDP 181 is a bit pricey, but it is not just a digital piano. If it fits in your budget then make sure to think about this digital piano as it offers a lot.
Are you mesmerized by the Yamaha Arius YDP 181 however want something that is portable? Then the Yamaha DGX 650 is the perfect option for you. This keyboard is packed with only the best features, yet can be transported easily. You can have the best of both worlds.
The sound quality is amazing, as the audio comes from Yamaha's grand piano. The audio is taken care of by the Pure CF sound engine which produces only the clearest and richest sounds.
The GHS keys provide a realistic key action, not to mention the weighted keys will almost fool you think you are playing on an acoustic piano.
The Yamaha GDX 650 weighs just a bit over 80 pounds which makes it a little heavier than other keyboards, however, it is so fully packed with features it ought to be a bit heavy. This is an excellent choice for beginners and advanced players as well.
The Yamaha P35 is not only one of the most reviewed digital piano on the market, but it is also a best seller. The reason why the Yamaha P35 is so popular is because of the sound quality and key realism. The signature elements of Yamaha.
The Yamaha P35 is equipped with GHS keys and an amazing sound engine which replicates only the bets tones and sounds by Yamaha. All of this is possible because of the Advanced Wave Memory technology, which makes sure that the sounds and full and rich.

The P35 is a perfect companion for travellers as it is light and compact. Due to the lightweight and transportability, the digital piano is much beloved by musicians.
The price of the Yamaha P35 is also very lovely. It has so many amazing features and amazing qualities, also it is affordable. A great choice for any musician!
If versatility is the most important factor for you when you are looking for your new digital piano, then make sure to check out the Yamaha P 105 keyboard. Almost everything can be set to your preferences, so the P 105 is an excellent companion.
The keys are touch sensitive and responsive, so does not matter what is your favourite style you will be able to adjust it. The Graded Hammer Standard keys are amazing and extremely good quality.
The keyboard can produce simply extraordinary sounds, which are all full and rich. Not something you would expect from a keyboard. If you love to play complex pieces, you do not have to worry about those when playing on the Yamaha P105 as it has 128 polyphony notes.
Plenty of features and specifications help you with mixing, layering, splitting and much more. Also, you can have it all for an affordable price. Something great to consider!
Are you more into stage pianos than furniture style digital pianos? The Yamaha CP40 can offer you so much. The GHA keys are not only realistic but can be adjusted, and the sound quality is very good as well. The sounds are all sampled from Yamaha's favourite concert piano.
The Yamaha CP40 gives you control over everything, and the dozens of features and settings can be used for so many various options. It is a great stage piano where you can truly set everything to your own taste. It is also very simple to use so you can quickly learn all the features and extras.
However, the Yamaha CP40 is not cheap, yet it is way under the price of many other stage pianos. This is an amazing stage piano for musicians especially for those who like to spend time with editing and other great features.
The Yamaha PSRE 243 is a perfect keyboard for beginners. It does not offer a huge selection of extras, but it has all the basics you might need. It offers over 380 voices, 100 styles, over 100 songs, and it has an interesting grand piano button on it. You can connect any of your IOS devices to it.
It also features Yamaha's famous Education suite where you can keep on learning and practising. Very handy for beginners.
The Yamaha PSRE 243 is well priced. It does not offer dozens of features but just about perfectly enough for beginners. It is also portable which can be handy for newbies.
The Yamaha PSRE 343 is a bigger and better version of the Yamaha PSRE 243. This keyboard is much more loaded with features and modes, and it can be a great instrument for both beginners and advanced players as well.
The Yamaha PSRE 343 offers 550 voices and over 130 styles to choose from, it can be used for recording and editing too.
There are built-in programs for beginners where they can practice and keep on learning. These programs help you to be better at certain styles and develop all the right kinds of skills. You can also connect your iPad or iPhone to the Yamaha PSRE 343 to use the devices as control panels to the keyboard.
Final Thoughts
Yamaha has been an innovative brand in the world of instruments. They have been producing high-quality digital pianos and keyboards over the years, and they are the best selling brand on today's market.
However, it can be a tough decision to find the perfect digital piano for your needs especially when there is so many to choose from. Hopefully, this guide was a help to you to look through the best Yamaha piano instruments on the market in 2019. You can find the best digital piano, keyboard or electric keyboard here.
If you are uncertain about what type of instrument to choose, you can read about the difference between digital pianos, keyboards, and synthesizers as well.